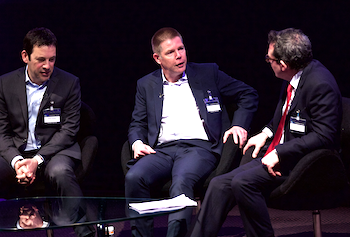 A classic sign of the health of the comms sector is how far private equity continues to court ICT businesses, through direct investment or by backing acquisitions.
Here, Knight Corporate Finance co-founders and Directors Paul Billingham and Adam Zoldan share insights into why PE is attracted to ICT resellers, and what they can offer business owners and managers.
It has been over 10 years since private equity first started to become seriously interested in ICT resellers, recognising the value of contracted recurring revenues and strong cash generation from entrepreneurial and ambitious ICT providers. Since then private equity has been behind the vast majority of transactions in the sector, either investing directly or through its backing of the numerous buy-and-build resellers.
There has now been over 50 private equity investments into the ICT sector since the start of 2016, with a number of ICT resellers now on their second or third round of PE investment. While the pandemic reduced the number of private equity investments into the sector last year, Babble, with its investment from Graphite, and Digital Wholesale Solutions, with its investment from Inflexion, are two examples of transactions that did complete during 2021, and as we emerge from lockdown we expect more direct private equity investments into the sector to be announced over the next few months.
Private equity likes investing in ICT resellers for a range of reasons, including the high levels of contracted recurring revenues, low levels of capex, strong cash generation, the provision of business critical solutions, disruptive technology changes and the fragmented nature of the market, all providing wide availability of acquisitions to accelerate growth.
So what is the attraction for business owners in taking private equity investment? Firstly, private equity allows business owners to release equity value in their business. Founders often get to a size where the business has a material value and it becomes the vast majority of their personal wealth. While they may not want to sell their organisation, the idea of realising some value through a partial sale is attractive, and private equity can offer this. It also allows a business to offer certain shareholders an exit at the point of transaction while others remain, and bring in purely investment with no equity released by shareholders initially. There is always a range of transaction options.
Secondly, private equity does bring more value than just a cheque. They can help professionalise a business, provide greater access to capital, and crucially provide support and guidance on taking the business to the next stage, including support on acquisitions. By taking private equity investment you are creating a new partnership, with aligned interests, to grow the business to a level that it could not achieve in its present state.
Private equity can also add to the credibility of a business, especially when it comes to undertaking acquisitions. Any seller will know that a private equity backed business is serious about M&A and is well funded, therefore a potential strategic advantage in a competitive field.
There are a number of excellent case studies of ICT resellers taking private equity investment and achieving significantly faster growth following the transaction. Good examples are Southern Communications, Arrow Communications and Wavenet, which all took private equity investment in 2016 and are now at least four times larger from an EBITDA perspective. Private equity investment allowed them to accelerate their M&A strategy considerably, which in turn created greater value for both the existing management teams and the private equity investor.
More recently, Air IT received investment from August in early 2020 and has now strengthened its management team and undertaken multiple transactions, following years of steady but not exciting growth. At the time of investment Air IT was at circa £1 million annual EBITDA. Following its sixth acquisition in less than 12 months, annual EBITDA is forecast to be over £5 million. This could not have been achieved without private equity backing.
As mentioned above, there are always a range of options available to business owners and their management teams, and every PE investor is different, both commercially and culturally. As we always say, the best thing to do if private equity is of interest is to understand your options, the process and whether it is something that could be realistically achieved, having discussed with advisers and people who have undertaken a similar transaction themselves. We expect 2021 to be a busy year for private equity investment into the sector.