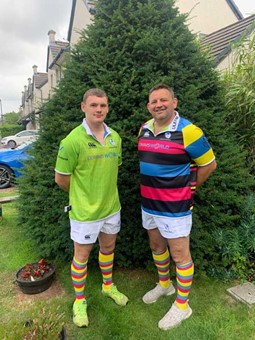 When a fire destroyed the kit of the Crusaders Rugby club nearly two years ago, Commsworld helped the charity team turnover their fortunes by donating £2,000 for a new strip.  The onset of Covid meant the kits have been unused, but the lifting of restrictions means the season is set to resume and the players can finally don their new jerseys.
The gesture was made at the time by then CEO Ricky Nicol, who himself has recovered following a battle with cancer.
Crusaders Rugby was set up in 2011 by Duncan Wilson and Mark Dainter, both of whom successfully battled cancer.
Dainter, who formerly played for the Wasps, said: "It may be over two years ago that this fire happened, but we're still so grateful to Commsworld for this kind gesture. Thanks to them we were able to continue our work raising funds which pay for things like prostate cancer checking events."
Steve Langmead, CEO of Commsworld added: "Cancer is something that affects everyone. It's also touched our Commsworld family.
"So we were delighted to help Crusaders out with the sponsorship and proud to be playing a supportive role in the great work they do."
(Pictured: Duncan Wilson (left) and his rugby playing son Campbell Wilson (Right)).