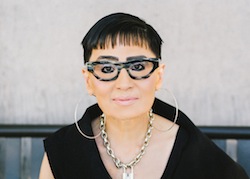 Sound planning and clear vision are the best guides to strategic action. In the case of US-based audio and visual manufacturer ClearOne, sound and vision also combine to represent an unprecedented advantage for all AV practitioners, according to CEO Zee Hakimoglu.
Visionary technology patents and dynamic leadership have imbued ClearOne with the culture and agility of a cloud-born start-up, making it a rare breed among the stable of businesses with a 30 year heritage. Unsurprisingly, the company has undergone a transformation and augmented its core specialisms in audio with an enviable collection of software-based AV solutions - a process led by Hakimoglu. She joined ClearOne 12 years ago and within six months of being appointed became CEO with a remit to transform what she said was a 'pony' into a dead cert thoroughbred runner. She wasted no time in leveraging her experience in communications which includes 20-plus years working in Silicon Valley across technology development, business development and general management.
"Communications has been at the heart of my experience across industries such as satellite and wireless communications, datacoms and fibre optics," she commented. "I brought the Silicon Valley mentality, drive, work ethic and innovative spirit to ClearOne, which was then a small but struggling audio conferencing company that was undergoing significant legal and financial challenges."
The strategy soon paid off and once outstanding issues were resolved ClearOne was relisted back on the NASDAQ. "I also introduced best practices to the company and recruited and retained strong management," she added. "We have a number of great technologists gained through acquisitions and others in Salt Lake that have been with the company for many years, some from inception. We all anticipated that audio and video would shift onto the network, so we moved to software-based appliances and cloud services. These were the drivers behind our acquisitions."
ClearOne began life as a designer, developer and seller of conferencing, collaboration, network streaming and signage solutions for voice and visual communications. The company has a global network of channel partners with UK distribution via RGB Communications, Nimans and Exertis. "Our products are used by thousands of organisations worldwide, from small enterprises to Fortune 500, as well as domestic and international governments and educational institutions," said Hakimoglu. "We've aggressively built on our intellectual property portfolio with new patents that span all product categories and technologies including audio, video and network streaming technology."
The latest new patents relate to ClearOne's beamforming microphone array for the Pro AV market, an adaptive steering technology (think of it as 'smart beam selection'). Hakimoglu claims that ClearOne remains the only company with a conferencing grade beamforming microphone array. "We've also received a few patents on our video network streaming technology, fundamentally related to streaming audio and video across IP networks, networked speakers and audio sources," she added. "The company was visionary in terms of using an IP network to stream audio and video and we benefitted from our early patent applications that came to fruition when the market was ready for the technology."
Last year proved to be a tipping point and signalled a new drive for growth based on video collaboration and AV streaming solutions. "We are building positive momentum during 2017," added Hakimoglu. "With the transition to our second generation CONVERGE Pro 2 audio platform gaining traction and our scalable audio, video collaboration and network media streaming products, our addressable market extends to additional workspaces and more businesses worldwide.
"We have finally reached the point where our investments in the new video centric product line-ups will begin to pay off. These are the right products at the right time, with the right features at the right price. We need to focus harder on the marketing of these solutions and the new direction for ClearOne which is complementary to our audio-centric business, and will initiate new marketing programmes and campaigns for our global channel network of dealers and distributors. We sell generally through a two-tier channel model, so we're going to work hard to raise awareness."
These rapid developments and the emergence of early patented technology into market reality have blasted the perception that ClearOne provides just audio solutions. "We fulfil far more end user needs then just audio," emphasised Hakimoglu. "ClearOne provides media collaboration products that allow users to seamlessly host meetings face-to-face, incorporating not only our audio conferencing offering but also integrating all of our professional audio solutions."
One example cited by Hakimoglu is ClearOne's Network Media Streaming portfolio which transports AV signals from location to location over a single cat 5 cable, using existing networks but retaining the same flexibility and scalability of its other solutions. "We will continue to leverage video conferencing, collaboration and network streaming technologies to enter new growth markets and focus on the SMB space with scaled, lower cost and less complex products and solutions," added Hakimoglu. "And we will capitalise on the growing adoption of IT channels and introduce more products to resellers. As we expand and strengthen our sales channels we will also consider acquisitions."
AV integrators are key to ClearOne's business model and according to Hakimoglu they have never been in a better position to steal a march on rivals if they share in the company's strategic advantage, she believes. "There are many start-ups and wannabes, and some large legacy players trying to figure out how to get into the software-based media conferencing and communications market," stated Hakimoglu. "They are challenged to re-tool and reinvent themselves, but adopting a new business model can be harder than changing technology.
"This is a classic business dilemma not easily solved and our biggest competitor is under such a threat. Therefore we have everything to gain and nothing to lose in offering software-based appliances and cloud services compared to some large legacy businesses selling high priced equipment and support services."