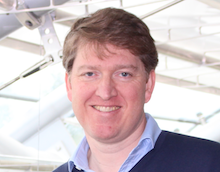 Excalibur Communications CEO Peter Boucher has promised to 'expand and strengthen the company' following the MBO he led in May. Here's how...
No sooner had Boucher completed an MBO at Excalibur (funded by Santander bank debt) than he set about making plans to double the size of the business within three to five years. His chief aims are to drive organic growth and seek additional acquisitions on the back of a record breaking trading period. Excalibur currently generates £8 million turnover, has 60 staff and over 4,000 customers located across the south and south west region, primarily SMEs and 40 schools served through a separate division called Techs4Education. 
Although Excalibur's roots are in mobile the company has more than doubled the size of its non-mobile revenues, which now represent 40 per cent of the business. "This includes IT managed services, cloud services and hosted VoIP offerings," explained Boucher. "We have also increased our focus on connectivity and signed an exclusive agreement with CityFibre to provide ultrafast business services in Swindon and nationwide."
Boucher is aiming for an equal balance of revenues across Excalibur's full range of services. "We will get there by taking one year at a time and having a total focus on maximising customer and staff satisfaction," he stated. "We have also set aside a £1 million bonus incentive pot to be shared equally between our staff as we execute this plan. This will be triggered at various growth milestones."
The company has a long standing relationship with Vodafone and is a Total Communications Partner. It also has relationships with EE/BT, Gamma, Virtual1, Google and Microsoft. "Our role is to deliver customised solutions for our customers, often with multiple vendors and to provide a consistently high service experience," said Boucher. "Customer expectations will be more demanding and the ability to differentiate via integrated solutions and best in class service will be more important than ever. 
"A key priority is to maintain current levels of growth with an increased focus on cross selling our mobile customers into fixed line and IT. With ultrafast and reliable connectivity, how people collaborate at work will continue to be enriched by the merging of all platforms into a single interface. They will have an integrated platform where voice, text and video will be truly interchangeable. We've been trialling a number of different solutions for customers for the past couple of years with success."
Who better to ensure Excalibur achieves its prime goals than Boucher? His previous experience includes leading the global market launch of 3G for Vodafone where he saw the transformation from a voice centric business to one that is now driven by data. Looking further back, Boucher's career began with a number of sales and marketing roles at GSK, Kraft and Unilever before moving into technology during the dotcom boom, including a spell at a start-up called Self Trade. "This led to 11 years at Vodafone working both globally and in the UK," recalled Boucher. "In my last role at Vodafone we moved beyond pure mobile and introduced UC (Vodafone OneNet) and acquired Cable&Wireless." 
A stint in private equity followed, running the largest private hire firm in London, Addison Lee. At this time he was also a Non Exec Director at Excalibur before taking over the CEO role from James Phipps in April this year. "I was appointed with a clear ambition to harness what James had achieved and continue to expand and strengthen the company," said Boucher. "Organic growth is important, but we are also motivated by more IT and connectivity acquisitions that are a good fit for us. This year we acquired Techs4Education and Sensata." 
Phipps took over Excalibur in 2009 as CEO and made a number of acquisitions including First Call, Bridge and Emnico, adding scale and expertise. Two years prior to Phipps' appointment Excalibur had diversified into IT solutions and services for SMEs. Rewind the clock back further to 1992 and we reach the year the company was founded by Gary Wetherall as a franchisee of the Mobile Phone Centre selling phones to consumers through retail outlets. In 2000 Wetherall merged his business with another franchisee, Nick Simpson, to create Excalibur Communications. Five years later the company transitioned from being a consumer phone company into a B2B mobile comms specialist. 
Today, the market has moved forward in leaps and bounds and Boucher says that after many years of hype, full unified communications and cloud services are now truly mainstream and the backbone of most of Excalibur's sales conversations. "This wasn't the case two or three years ago when customers were still investing in legacy systems," he added. "There is also a move from customers to rationalise their suppliers. They want to buy more services from one place and new technologies enable this integration. For example, the explosion of connected devices and the IoT is already starting to be an important opportunity for Excalibur."
Among Boucher's raft of strategies is a proven plan to own the process of staff recruitment. "Finding, developing and retaining the right type of people to grow the business is one of our primary challenges," he explained. "Recruiting people that understand sales and service across a broad offering can be a challenge. As a Sunday Times top 100 Employer that over-invests in training and culture, we have shown that it's better to build and develop your own team rather than hire expensive 'big guns'."
Also on target is Boucher's longer term goal which he will never lose sight of and to which he has given ambition a free rein. "We have successfully completed year one of a five year plan for growth," he confirmed. "The strategy for expansion is to drive organic growth by investing in sales and service, broaden our product offering to existing customers, execute bolt-on acquisitions, develop partnerships and continue to invest in our people as our biggest asset."