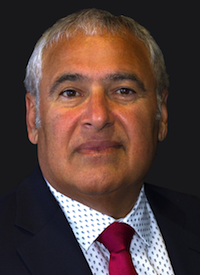 To say that BDR Group CEO Bahman Rahimi is a quintessential entrepreneur would be to greatly understate the extent of his opportunism and craft for building profitable businesses.
Rahimi took control of his destiny almost 30 years ago and his determination to remain independent and self-sustaining has not waned. Nor has his ability to identify a commercial opportunity in the comms sector, and beyond, faded over time. This is plainly evidenced by his unequivocal response to an agricultural opportunity that arose in his native Iran. The venture speaks volumes and reflects the extent of Rahimi's business acumen. "I acquired some land in Iran and for eight years owned and managed, at arm's length while running BDR, a farm that produced hundreds of tonnes of potatoes annually," he explained. "During this time the price of land rose significantly and I could not refuse an offer to sell up. The sale was timely because I'd seen enough potatoes to last a lifetime."
Rahimi's agricultural venture displays a rare combination of opportunism, a willingness to diversify and an ability to take calculated risks. His biggest risk, however, was starting BDR in John Major's recession years with his own limited funds. "No individual or institution would back me," Rahimi stated. "But I did not let my confidence be undermined by the naysayers when setting up BDR in a challenging economic climate."
His original background was in computers and software development, and like many entrepreneurs his entrance into the world of telecoms was more a case of chance than design. "I've been in comms since the eighties, from the early days of privatisation," explained Rahimi. "I jointly owned a telecoms company for six years but felt the time was right to start out on my own. I wanted to test my skills and business abilities without external influences. This led to the creation of BDR in November 1991.
"I have always believed in self-sufficiency when providing products and services to customers. This philosophy over the last three decades led me to develop in house skills for key technological and legislative changes, limiting our reliance on sub-contractors and middle men when dealing with customers. This is a big element of BDR's success, resulting in a stable customer base and loyal staff."
The main influence on BDR's direction of travel is to follow a policy of not being influenced by brand names or product status and only engaging with suppliers that meet market demands and place a high value on their relationship with BDR. "Our proposition is to design, develop and deliver a complete and fully integrated IT infrastructure and voice platforms to organisations of all sizes," said Rahimi. "We have a specialised approach to some vertical markets, but in my opinion there is a commonality of requirements shared by most industries."
In recent years organic growth has proven more challenging, so sticking to a single growth strategy was not a viable option. "We have blended in growth by acquisition during the last few years to complement our organic expansion, and have enjoyed good success in this field, completing several acquisitions of various sized businesses and assets," noted Rahimi. "We are hoping to make further announcements before the end of this year.
"Consolidation in our industry tends to be based on private equity models. But I aim to make acquisitions using our own funding, thereby avoiding banks or private equity and their control. This is making an eye-watering change to my financial health and wallet, but I am persevering because I value my independence."
Rahimi's current priority and big challenge is managing the transition from TDM to cloud and the shift from a capex to opex model. "We are making progress, redesigning and planning timely changes to cater for the move away from traditional revenue streams to new models," he commented. "BDR will achieve significant growth and expansion in line with our planned direction.
"On the whole I am an optimist, but I expect the number of resellers to diminish over the coming years due to the ever encroaching digital world and the march of turnkey products, mobility, home workers, multi-nationals etc. There is a shrinking pool of customer requirements and that means less dependence on the specialist expertise offered by resellers. This will have an inevitable impact on them. But our industry is still lucrative and offers many opportunities for those who plan correctly. I consider myself lucky to be part of this dynamic, revolutionary and life changing industry, which has kept up with the pace of change and up-skilled continuously to create a lasting and exciting commercial environment."•