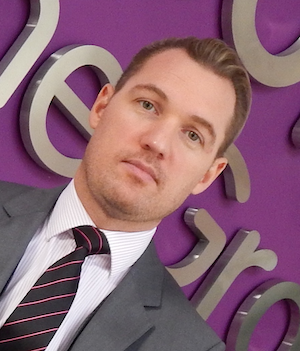 Adam Cathcart, Director of Partners at 9, has put his own stamp on building channel relationships and shown himself as a fully fledged hands-on partner champion.
The face-to-face partner engagement policy practised by Cathcart is a classic model for all 'people' businesses. It is redolent of the pre-Internet, pre-email and pre-digital era when communication was far more immersed in a physical live experience that yields so much more context than an email or short call. "You can get the best out of partner leaders when you see their operation, shake their hand and look them in the eye," said Cathcart.
His first priority after becoming Director of Partners a year ago (Cathcart joined the company as Director of IT Services in April 2016) was to undertake a 'partner tour'. "It is crucial to understand why businesses partner with us, what works well, and most importantly what we can do to improve the relationship," he said. "I was struck by their openness and honesty which was refreshing and helpful."
Advances in technology are inevitable but they needn't represent insurmountable challenges, noted Cathcart, who wasted no time in putting partner tour feedback into practice. "It is crucial for 9 to always be up-skilling our capabilities to support partners through the convergence of IT and comms markets," he stated. "We continue to evolve 9's portfolio and will be launching our cloud IT offering in Q1 2018. This will be focused on Microsoft Office365 with a full service wrap to train, support and provide sales assistance to help partners move into a market that may be new to them."
cThe key is to keep giving partners exactly what they need and enable them to do the same for their customers. And 9's push into the mobile market and launch of eve, its hosted voice solution, are proof-points of its commitment to enhancing both the purpose and value of its partnerships. "I was keen to review our product portfolio which over the last nine months has seen us revamp our mobile offering," explained Cathcart. "And following a £2 million investment and more than two years of development we launched eve over a year ago into our partner community.
"We then refined and developed the product to compete successfully in the market, enabling us to confidently launch externally to the wider channel. Perhaps our biggest opportunity is the growth of eve as we increase its feature set and integration capabilities and win new partners looking to add a voice solution, or arm others with an alternative option if they are starting to see product fatigue from their older product offering."
9's partners range from traditional telcos, mobile dealers and resellers, IT resellers and distributors, and its average partner transacts 4.7 different services with the company - which now has a 200-plus headcount and provides a complete UC offering with value added services to help partners sell, transact, support and bill their customers. "Having a 16 year heritage of billing with Cascade enables us to provide over 180 partners with a full billing and DD service," added Cathcart. "We also provide a Virtual Office capability to partners where we can white label their support services, managing all faults, calls, provisioning and billing queries on their behalf."
9's mobile and hosted-driven expansion was catalysed by a directorship appointment perfectly timed, and perfectly matched. "I have a background in mobile and I'm excited about our opportunity in this area," noted Cathcart. "We have a decent five figure mobile base that has been built up over the years. With our new proposition and sharper focus on this area we are seeing fantastic growth from our partners. By the end of Q3 this year we had already sold more mobile connections than the full year in 2016. We are currently on track to deliver 151 per cent over last year's performance. 9 has also accredited 65 existing partners on selling eve and witnessed significant month-on-month growth."
Cathcart's mobile experience is rooted in Genesis Communications where he led the channel business. The company operated a direct sales strategy but became channel-led and grew its base to over 100,000 mobile connections. It then became known as Outsourcery, the cloud pioneer. In May 2014 Cathcart co-founded Lapdog for Business Consulting and later became a Non-Exec Director at Zest4. "I have known 9's CEO James Palmer for 10 years and we agreed that it would be great to work together," added Cathcart. "An opportunity arose for James and I to complete a deal with Lapdog for Business last year. It was perfect timing.
"Meeting and getting to know everyone at 9 was also a priority. We are a large organisation but have a family business culture with many long-serving and dedicated employees. Getting to know them and hear their thoughts and ideas was instrumental in helping me to define our strategy in the 9 Partners business."•