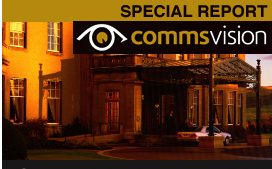 Comms Vision 2014: Platinum sponsors set the scene
Senior executives of leading ICT companies descended on the world famous Gleneagles Hotel for Comms Vision 2014, the channel's premier strategic business planning convention (November 5th-7th). And this year's line-up of Platinum sponsors wasted no time in setting the scene by spilling the beans on their reasons for supporting the event which is now in its ninth year.
"The landscape is changing massively," commented Andy Brocklehurst, Regional Sales Manager for Cisco UK & Ireland. " With Azlan we can help resellers navigate the future towards profitable outcomes. It's time for resellers to decide who they will back."
Peter Tomlinson, Director for Product, Marketing and Sales at Eclipse, also addressed Comms Vision delegates. "If something's worth doing, it's worth doing properly," he said. "Our Platinum sponsorship is the culmination of years of commitment to our channel. We are now introducing new product areas in hosted as well as opportunities with the Microsoft portfolio."
Gamma's Sales Director John Hawe's key message to delegates was that he wanted to take them to the next stage of market motivation. "We all understand hosted voice and SIP, now we're focused on helping resellers sell more through integrated marketing campaigns."
The role of UC in a hybrid world is top of the agenda for ShoreTel. Adrian Hipkiss, Vice President and Managing Director EMEA, explained how the acquisition of M5 Networks introduced UC-as-a-Service to the vendor's portfolio, and that bringing choice to resellers and customers was now a top priority.
"Our investment in a next generation platform offers a seamless choice between on-premise, cloud or a hybrid solution," said Hipkiss. "This will build on our 20 per cent year-on-year growth."
Martyn Etherington, Mitel's Chief Marketing Officer, also has clear objectives for top and bottom line growth for Mitel and its partners; and to say the vendor is well advanced along a steep growth curve would be to greatly understate its expansion from a $400 million company two years ago to a $1.2 billion operation today.
"We've doubled our investment in innovation to $100 million," he told delegates. "There is a big opportunity for partners to share in our momentum."
Comms Vision 2014: Digitalisation and Enterprise IT 3.0 shape the future of communications
The comms industry has always been fond of acronyms but surprisingly there is no catchy abbreviation to denote what is the single biggest influence on the comms sector, according to Content Director John Chapman. Taking the stage Chapman embarked on a revealing keynote that highlighted the overarching role of Digitalisation and its impact on the shape of business communications and the future look of customer organisations.
"Digitalisation has moved into the boardroom at pace, changing the way industries and companies operate," he said. "Digitalisation is now at the heart of business strategy."
He urged delegates to grasp the 'digital imperative' - a by-product of widespread connectivity - and get involved or 'face destruction'.
The rise of Digitalisation is surely beyond argument, according to Chapman, who cited a confluence of forces that have created a new market based on the virtualisation of infrastructure, data centres, superfast connectivity, mobility and Big Data analytics.
"These are responsible for kick starting a new era in the advance of technological developments," he said. "This is reflected in the changing structure of boardrooms and the emergence of the Chief Digital Officer."
Digitalisation has redefined IT into a new category - Enterprise IT 3.0 - the latest incarnation of two previous eras, the first being 'basic' IT, while the 2.0 epoch points to an age when IT was industrialised by the rise of connectedness, which spawned greater expectations around what technology can deliver.
But 3.0, noted Chapman, is all about Digitalisation and realising the full potential of technology now that we have it. "The next five to ten years will be about using technology to transform the way businesses work," added Chapman.
This is an optimistic period with high hopes for market growth pinned on the transformative power of embedded digital-ness. And Chapman put a spotlight on smart manufacturing as a prime example of how Digitalisation is turning traditional methods of production on their head. Products can now be made to order quickly, and where required an element of customer personalisation may be thrown into the manufacturing process for good measure.
"These changes are all about Digitalisation," he added. "CIOs are committed to spending in areas such as BI analytics. Digital-based solutions like this put pressure on existing networks and the channel is the middle of this digital revolution.
"Resellers also need to have Digitalisation at the heart of their strategies. They need to understand the customer's digital requirements and provide the infrastructure. New partnering models will be needed, but the opportunities are endless."
Comms Vision 2014: Guinard disentangles the Web of Things
Making brands smart, interactive and trackable is stock in trade business for @EVRYTHING, a company that is deeply immersed in IoT and the Web of Things.
In a keynote address to Comms Vision delegates CTO and co-founder Dr Dominique Guinard pointed to Google's acquisition of Nest as a sure sign of the times. At first sight Nest's $3.2bn price tag may seem on the pricey side. It was, after all, at the time a four year old company making smart thermostats.
In 2008, noted Guinard, more 'things' were connected to the Internet than people, and in his view 'things' have gone so far that there is no going back. But there is a challenging development journey ahead.
"To make IoT a reality we need to think about the app level," he said. "Apps today are used in vertical silos. If there is no interconnectivity of devices we won't have the full 360 degree view. This will be the Web of Things, where both things and apps are connected."
To put a spotlight on the transformative power of IoT Guinard explained how everyday street lamps can easily be transformed into information centres through the addition of sensors to form a smart lamp, which multiplied would create a distributed network with the capacity to measure all sorts of metrics such as light levels, power consumption, pollution levels etc.
"This information is consumed through a web browser," commented Guinard. "Smart rules can be implemented according to factors like weather and pollution levels, turning data into actions."
Digitally enhanced products are also the order of the day, according to Guinard, who gave delegates insights into how his company is enhancing products with digital identifiers, with proper electronics being printed by a regular printer, and all readable by a mobile phone.
But there are challenges. "The big issues for IoT are battery problems and the infrastructure," he said. "We need to get low power networks into the Internet. This is where the channel can help."
Comms Vision 2014: IoT ticks all the boxes says Cisco luminary
Comms industry luminary Andy Chew, Managing Director and Head of Architectures for Cisco UK&I, created a fizz of excitement around the market potential for IoT once he deftly resolved the question of whether IoT expectations are a classic case of hype over substance.
He asked: "How real is the opportunity? Should we consider IoT, or place it on the back burner? In 2012 there were approximately 4,000 reference to IoT in the media, so far this year we are up to 45,000. IoT is now at the height of its inflated expectations, but will it be slow or fast to take off?"
Rather than raise a number of valid questions, Chew merely set the context for an unassailable argument in favour of an IoT dominated future. "The signs are that IoT will be permanent," he explained to delegates. "It's already having an impact on society and businesses, and it marks a clear departure from what went before. IoT ticks all of the boxes."
The societal impact of IoT is particularly felt in the healthcare sector, transforming the way patients are treated with, for example, tablets that monitor vital signs from within the human body, creating a network of connected patients. IoT connects consultants, surgeons and patients in new ways based on sensor technology. Moreover, the UK Government has pledged £45 million towards the development of IoT. Meanwhile, 10 per cent of all VC investment is going into IoT related activities, noted Chew.
Can resellers walk the road to full Digitalisation and IoT? Perhaps now is the time to take those first steps. Chew cited another example that illustrates the rapid and full development that is underway in the world of IoT. "Last year the IoT World Forum attracted 800 people, this year 1,500 attended, and 900 were customers," he said.
"IoT has traditionally been about connected devices, but the real potential is in linking people, processes and data. By making data more available it can be acted on quickly. For Cisco, this is the Internet of Everything, where everything is linked together."
It's easy for vendors to pledge the moon but a combination of strong arguments, hard facts and common sense removes all questions about IoT. Add to the mix survey results that found 95 per cent of CIOs plan to deploy IoT, with 63 per cent believing they'll be left behind without it - and only the foolish will contradict where the market is heading. "Cisco has invested $200 million in IoT," added Chew. "This is a market that will take off during the coming years. Whole industries and sectors of society will become digitalised."
Key verticals include cities, retail, transport, leisure and entertainment, healthcare and construction. Milton Keynes is already an IoT enabled town with base stations and sensors to deliver connected parking, for example. And plans are afoot to bring 15 other UK cities in line with Milton Keynes.
However, the capacity for IoT to make the biggest difference is also be the cause of its main challenges. "There are many issues to overcome," noted Chew. "These include security, data policies, technological complexity, business readiness and a shortage of IT talent. But where there is potential and opportunities the momentum will carry us forward. What do we need to do to make IoT work? We need new partnership models to deliver end-to-end capabilities."
Another critical imperative, noted Chew, is to bring the infrastructure closer to the app layer, thereby creating the conditions for the speedy and flexible deployment and management of apps. Also high on the priority list is to bring new models of IT to organisations where, for instance, 80 per cent of the IT budget is expended on keeping the lights working, leaving just 20 per cent in the bank for innovations in IT investments.
"As we move into this new world it is incumbent on us to align IT to an organisation's digital strategy," added Chew. "The time is right for IoT and it's important for everyone to get to grips with that."
Comms Vision 2014: IoT and why going vertical is the only option
In a lively Comms Vision debate Andy Chew, Managing Director, Head of Architectures, Cisco UK&I, said going vertical and getting under the skin of customers is the only way to bring about successful IoT projects. "How we position IoT is absolutely on a vertical basis," he commented. "IoT is transformative, so we need to understand the various verticals and their pressures.
"Take local authorities - the financial pressures they are under means they have to do things differently. This leans towards the capabilities of IoT at a time when the costs of technology are coming down. Resellers therefore need vertical knowledge. And they should not think of IoT as a standalone market, but as a lateral extension of business being done today in the context of trends like mobility."
Comms Vision 2014: Shoretel adds hybrid component to comms platform
Deciding on a delivery model shouldn't be a basic question of weighing up the attributes of both on-premise or cloud solutions. The sensible approach is to offer real choice by adding a hybrid component, according to Adrian Hipkiss, Vice President and Managing Director for Shoretel in EMEA.
Following a significant product investment Shoretel is bringing to market a true hybrid environment based on a common platform that makes all delivery mechanisms identical, providing simplicity in devising a migration strategy that gives customers what they want.
In a keynote address to Comms Vision delegates Hipkiss gave vivid insights into the vendor's three pronged strategy and said that sticking to CPE or cloud-only can serve no purpose. He explained how the acquisition of M5 Networks in 2012 introduced UCaaS to the vendor's portfolio, and that bringing more choice to resellers and customers was now a top priority.
Displaying an infectious passion for his subject Hipkiss noted: "Offering CPE or cloud on their own is not a consultative sale. But offering CPE, cloud and a hybrid solution is true consultation. Conversations about on-premise or the cloud do not provide customers with a real choice. Customers want simplicity, low risk, flexibility and more options. There is strong demand for an enterprise class hybrid service, and our partners looked to us to provide a seamless platform."
Although still a significant market, CPE is declining while UCaaS is growing at a 45 per cent compound growth rate year-on-year. "We are aiming for 38 per cent recurring revenue and expect 55 per cent to 60 per cent by 2017," added Hipkiss.
As well as delivery methods converging on a single platform, social and corporate environments are also coming together and customers are increasingly choosing their business communication tools. They are intolerant of failure, they want feature richness and they expect their reseller to be consultative and insightful in meeting their requirements. "The next generation of apps must be simple and intuitive, social and managed via a single pane of glass," said Hipkiss. "The user experience drives adoption."
Comms Vision 2014: Mitel CMO puts customers front and centre
Customers are looking to drive out costs, become more efficient and gain a competitive edge by becoming far more responsive and flexible in their use of technology, and their ICT buying behaviours have become greatly influenced by the Internet. So much so that buyers could be 70 per cent of the way through a sales cycle before they engage with a supplier. They are more aware of their pain points and supply options than ever before and this is forcing supplier organisations to revamp their go-to-market strategies and align them to a new breed of purchaser.
Resellers would be doing themselves a big favour by taking a leaf from Mitel's
customer-centric master plan, according to Martyn Etherington, Chief Marketing Officer & Chief of Staff, who explained in great detail the vendor's efforts to become more relevant to today's buyers. "The way people buy and consume technology has changed," he told delegates. "We need to understand the customer, how they buy and where they are in their purchasing journey. We have to change the way we sell."
Mitel has put the customer at the centre of its thinking. This shift of focus was driven by an understanding that customers are clued-up and more concerned about their problems than a vendor's products or services. "This shapes everything we do," added Etherington.
To people-ise its customer focus and bring potential clients to life Mitel has created a number of buyer personas that are aligned to its product categories. These personas are imbued with targeted marketing content and they act as personalised sales aids, because everything the vendor does is made relevant to customers who are likely to make snappy buying decisions while using the Internet.
The old-style marketing plan had three distinct stages - stimulus, the first moment of truth, and a second moment of truth that aligns with brand affinity as the final stage of purchasing. But Internet usage has forced a rethink of this marketing model and produced a fourth category - the zero moment of truth, or ZMOT - which describes an online decision-making moment. This is the big change in how customers research and source new products.
Online activity like this also brings the usefulness of searchable keywords into sharp focus, and it is critical to use the language of the customer rather than stilted industry jargon, noted Etherington, because end users do not search for products or services like 'on-premise PBX system'. Because the customer is front and centre of Mitel's thinking, it has multiplied the number of keywords it uses by a factor of many, and is reaping the results of a greater online presence as a result.
Etherington urged delegates to put a decent wodge of their MDF investments into getting closer to how people buy now, to help 'rack and stack up' in the search results. Social media also has an impact on rankings. "People check out peer reviews to find information about brands," he said. "Word of mouth is ten times more powerful than traditional advertising."
As CMO, Etherington's challenge was to make a 41 year old company more social and relevant, and an important way of helping to achieve his desired outcome has been to 'share the unedited'. In other words, encourage staff to use social media autonomously and in a fashion that raises the profile of the company across a number of media channels such as twitter and LinkedIn. "We use social tools to network and build a strong social signal," said Etherington. "We now have 1,500 active social employees who amplify our message with targeted and relevant content.
"There has been a big shift towards social in Mitel, largely based on OPM, Other People's Money, through finding ways to leverage and amplify our brand while marshalling the resources of employees and advocates in the channel to create social reinforcement. Social enables you to change perceptions.
"People are changing the way they buy, so we need to change the way we sell by winning ZMOT and being social. You don't need deep pockets to punch above your weight, cast a bigger brand shadow and become more relevant to customers. Resellers who embrace a customer-centric selling model will prosper, but those who do not understand their customers and how they buy will become irrelevant."
From gaining market share through brand management to becoming the industry's main consolidator, Mitel's ambition seems to have no limits. "Our strategy is organic and inorganic growth," said Etherington. "We aim to get maximum growth from cloud contact centre and also be the consolidator of the PBX telephony world. We sprinted last year, this year is about picking up the pace."
Comms Vision 2014: Rise of Digital CIOs demands new engagement model
The coming to power of Digital CIOs marks the demise of the IT function as we have known it since the early '90s, ending what the new breed regards as an immovable object stuck in a time warp, according to Ian Cox, owner, Axin.
Digital CIOs are earnestly determined to transform their organisations, stripping old-IT of its calibre. And there is strong evidence to show that the traditional CIO role is diminishing as fast as the imperative for a new engagement model is growing. "IT is challenged by Digital," Cox told Comms Vision delegates in a keynote address. "This should be a golden age for IT but it's a challenging time. IT has been left behind and there is now a gap between the business and the IT department."
Digitalisation impacts most companies in the marketing department first, and in a recent survey cited by Cox a third of CMOs claim that IT falls short of expectations, believing it to be too slow for digital, and that the IT function still tends to 'build' rather than integrate best in class solutions. "CMOs bypass the IT dept and go straight to vendors," added Cox. "There needs to be a new model for IT."
IT used to be a function of automation and improving what existed, it was reactive to problems. But hamstrung by its legacy IT is now unable to react to Digitalisation which demands fast responses. Wiping the slate clean, Digital CIOs are on a mission to make transformational changes. They are business focused leaders who drive growth and innovation through IT. According to Cox the characteristics of a Digital CIO are easy to discern. "They are not technical, they have no real IT experience, and they are highly engaged with stakeholders," he said.
"They don't need to know how to strip down a server. They focus on delivering business value and search for new opportunities. Their key attributes are business and commercial. They have influence and communication skills."
What does this mean to resellers? "Focus on business value and outcomes," urged Cox. "Look for ongoing engagement, be flexible, agile and proactive. Build a trusted relationship and avoid the sales approach. Digital CIOs want early and regular engagement. They need to know what's coming next, but they may disengage if you 'sell' to them."
Comms Vision 2014: New conversation needed to stay close with customers
There is nothing new about the need for a 'fresh conversation' with customers, but the widening gap between the IT function and the emergence of so-called Digital CIOs could see resellers grow detached from the customers they value so highly.
In a Comms Vision panel debate Russ Attwood, CEO, Unify Communications, said: "There is a coming wave of Digital CIOs. We need to reshape how we sell. Not many of the sales people we employ are capable of holding the new conversation. We have a lot of work ahead to re-engineer sales so they can have a business-led engagement."
Campbell Williams, Group Strategy and Marketing Director, Six Degrees, added: "IT directors are not the decision makers now. They are part of the conversation, but the whole management team is involved."
Comms Vision 2014: Growing imperative for simplicity in product design
The framework of a popular TV quiz show proved a useful conceit to unearth some of the pressing issues that have taken root on the middle ground between resellers and vendors. A Family Fortunes style competition based on two 'families' of selected vendor and reseller representatives served as a light hearted device to test the compatibility of viewpoints based on important questions about the reseller benefits, or otherwise, of being closely aligned to vendors and their channel programmes.
In the debate that followed, SAS Global Communications' CEO Charles Davis picked up on the key issue of technical support and the growing complexity of the evolving market. He said: "There are good products, but getting them installed and working can be a different matter. The old lines of demarcation are gone and we need to pull the bits of a solution together. A lot of technical knowledge is required."
Gamma's Sales Director John Hawe added: " It's all about making things absolutely simple. We're putting more products together because the technology has to be simpler."
Comms Vision 2014: Why user experience is key
To say that the power has shifted into the hands of customers would be to greatly understate the strength of their position, especially in matters of their choice of communication tools and their requirement for a seamless user experience.
In a Comms Vision panel debate, Rufus Grig, Chief Technology Officer, Azzurri, said: "The days of us telling customers what to use are over. They will vote with their feet based on the user experience. If you don't create a compelling and easy to use tool people won't use it. Collectively, the industry hasn't got that right yet. Customers want outcomes.
"Take fixed-mobile convergence: To me, that should be fixed-mobile substitution because people prefer the experience of using mobile phones."
Comms Vision 2014: Flamboyant PY Gerbeau gives lively lesson on leadership
It seems the 'business turnaround' industry is just as fond of acronyms as our own. Its brightest luminary, PY Gerbeau, swears by a brace of abridgements that form the foundation of his approach to breathing life back into drowning organisations. His two favourite management values - JFD (Just F' Do It) and FIF (Fit In Or F' Off) - have not failed him yet.
Gerbeau's loyalty to his tried and tested JFD and FIF formula has helped him to secure many notable successes but he is perhaps best known for rescuing the Millennium Dome from what appeared to be certain failure. It goes without saying that the Gleneagles audience were light years away from needing a 'helping hand', but the flamboyant French entrepreneur and former professional ice hockey player (he became a member of the French national team until an injury curtailed his sporting career) provided Comms Vision delegates with a lively and at times hilarious lesson on leadership and managing business change.
His penchant for taking over failing businesses and reinventing them as slick machines is well documented. And a strict adherence to his non-nonsense management values plus four other key principles ensure that successful outcomes are a dead cert. Gerbeau's Fab Four principles - Flexibility, Adaptability, Agility and Common Sense - when combined help businesses to adopt a chameleon-like strategy that enables them to adapt to changing and threatening environments, but only if organisations are orchestrated in the right direction.
"Management is not about knowledge and giving orders, it's about being a conductor," added Gerbeau. "The only rule is to ensure that staff play together from the same song sheet. Business starts and finishes with people. And as a leader you need to reinvent yourself. It's not just about being visionary, it's about being a doer. So be absolutely committed, live the brand, get people to change and pass on your passion to your staff."
Brands can take years to build but minutes to destroy, and you have to get it right first time or be punished, warned Gerbeau. "Staff need to believe in the brand values and the biggest challenge is to lead by example," he added. "Staff want to learn and be inspired. The chief exec needs one week a year on the floor to remind them of who they work for - the customer - and staff want to understand them as a person. Leaders have a mission. It's not about money, it's about making a difference - and you make a difference by showing people you are on a mission."
Devising a strategy can be easy, but implementing one is another matter and change management is a potential sticking point. "Getting people used to change is a challenge," added Gerbeau. "This can be done by changing departments around and moving desks every three months to give people a taste of change. Without change businesses won't survive."