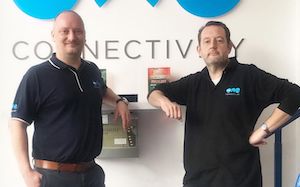 Derbyshire comms provider One Connectivity has acquired Elite Telecoms (Midlands) for an undisclosed sum.
The two companies are no strangers having collaborated on projects prior to the transaction.
Elite Telecoms Director Chris Cowling joins One Connectivity as part of the deal.
One Connectivity MD Paul Stevenson said: "The acquisition was an obvious move for us to support our growth and feels completely natural."
Earlier this month One Connectivity collected the Fastest Growing Reseller of 2019 award from Pragma. 
Pictured: Paul Stevenson (left) Chris Cowling.