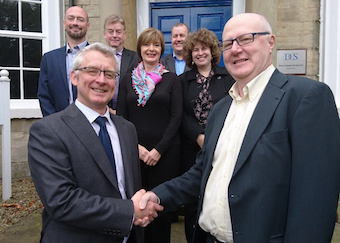 Boston Spa company Deans Computer Services (DCS) has added expertise in bespoke business software development following a merger with Harrogate-based Leckhampton Computers.
After an initial period operating as DCS Incorporating Leckhampton, the new company's name will shorten to DCS plc.
The two organisations already had a close working relationship through collaboration on a number of past projects.
Retiring Leckhampton founder and MD Peter Lichtarowicz also co-founded DCS with its current Chairman Peter Rogerson in 1982.
Two other Leckhampton directors, Richard Foulds and Steve Robson, have joined the DCS board and will remain based at the Harrogate premises alongside seven developers. The newly merged company now has 48 staff in total, including 20 systems engineers.
Patrick Clayton, MD of DCS and the merged company, stated: "Having worked alongside various members of the Leckhampton team for the last 20 years it's great to finally cement that relationship into something more solid.
"It's a superb opportunity for both companies to develop new business, giving us both a much broader scope of offerings and solutions for our clients.
"The newly expanded DCS development team will comprise 11 developers which, as well as providing third party add-ons to accounting systems such as Pegasus Opera, Exchequer and Intact iQ, will now be able to provide consultancy and advice across multiple platforms and operating systems.
"Leckhampton have expertise in providing mobile and tablet applications for business, document management solutions and integrating internet services with existing systems."
Richard Foulds, Development Director of the merged company, added: "It was an obvious fit for the two companies with each one complementing the other. The skills and resources of the new business will open new markets and opportunities and we are very much looking forward to this exciting new venture."
Pictured (foreground): Patrick Clayton (left) and Steve Robson