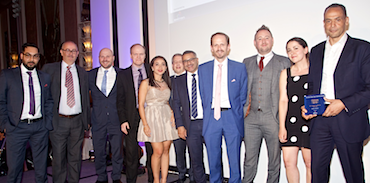 Hats off to Virtual1 for bagging four gongs at this year's Comms Dealer Sales & Marketing Awards including the coveted Team of the Year accolade (pictured), the biggest haul in the event's history.  
Held at the Sheraton Park Lane Hotel on May 3rd (sponsored by KCOM ) this year's sparkling awards extravaganza was brilliantly hosted by TV presenter Mark Durden-Smith and once again reflected the growing strength of the channel's sales organisations, noted Comms Dealer Editorial Director Nigel Sergent.
"No-one ever really doubts the quality of sales and marketing teams in the channel, but the Comms Dealer Sales and Marketing Awards endorses and underlines what a vibrant, unified and creative industry we work in," stated Sergent.
"I would like to congratulate all the winners and pay tribute to all the teams that entered and made it such a positive, life affirming event."
AWARDS ROLL OF HONOUR
DISTRIBUTOR CHANNEL SALES TEAM OF THE YEAR.
Winner NUVIAS
Highly commended PROVU
DISTRIBUTOR CHANNEL MARKETING TEAM OF THE YEAR
Winner PROVU
Highly commended PRAGMA
DISTRIBUTOR CHANNEL MARKETING CAMPAIGN OF THE YEAR
Winner WESTCON-COMSTOR
Highly commended PROVU
SERVICE PROVIDER CHANNEL SALES TEAM OF THE YEAR
Winner DAISY WHOLESALE
Highly commended VAIONI
SERVICE PROVIDER CHANNEL MARKETING TEAM OF THE YEAR
Winner FIDELITY GROUP
Highly commended 9 GROUP
SERVICE PROVIDER MARKETING CAMPAIGN OF THE YEAR
Winner CHANNEL TELECOM
Highly commended KCOM and 9 GROUP
VENDOR CHANNEL SALES TEAM OF THE YEAR
Winner VIRTUAL1
Highly commended JABRA
VENDOR CHANNEL MARKETING TEAM OF THE YEAR 
Winner VIRTUAL1
Highly commended GAMMA
VENDOR CHANNEL MARKETING CAMPAIGN OF THE YEAR
Winner INFORM BILLING
Highly commended VIRTUAL1
BEST VENDOR PARTNER PROGRAMME
Winner GAMMA
Highly commended TELCOSWITCH
RESELLER SALES TEAM OF THE YEAR WITH A TURNOVER UP TO £2.5M
Winner SIRUS TELECOM
Highly commended RYDAL COMMUNICATIONS
RESELLER SALES TEAM OF THE YEAR £2.5-7.5M
Winner PURE TELECOM
Highly commended LILY
RESELLER SALES TEAM OF THE YEAR ABOVE £7.5M
Winner FOCUS GROUP
Highly commended NSN
RESELLER BEST MARKETING CAMPAIGN
Winner CISILION
Highly commended BERRY TELECOM
BEST SOCIAL MEDIA CAMPAIGN
Winner BERRY TELECOM
Highly commended GAMMA
BEST PR CAMPAGN
Winner BOXX COMMUNICATIONS
Highly commended AGILITAS IT SOLUTIONS
BEST PARTNER OR CUSTOMER EVENT
Winner DAISY WHOLESALE
Highly commended PRAGMA
BEST APPRENTICE SCHEME
Winner FIDELITY GROUP
Highly commended Infinity Group and Citytalk Communications
BEST COMPANY WORK TO WORK FOR UP TO £7.5M
Winner LILY
Highly commended LOOP VOICE & DATA
BEST COMPANY TO WORK FOR ABOVE £7.5M
Winner VIRTUAL1
Highly commended BERRY TELECOM
THE COMMS DEALER TEAM OF THE YEAR
Winner VIRTUAL1
Pictured below - TV presenter Mark Durden-Smith offered a hosting masterclass with a rousing display of comedic panache