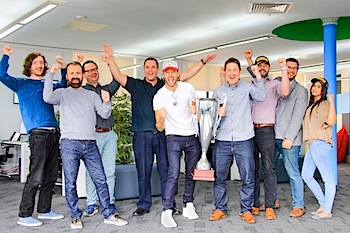 VIA sponsored British GT Champion Rick Parfitt Junior joined the hosted Skype for Business provider for a celebratory event to mark the racer's achievement.
Parfitt said: "It's been a hectic season with many ups and downs. I won GT4 a few years ago and to win the GT3 Championship was a dream come true. I appreciated the season-long support from VIA, and I wanted to meet the team to say thanks."
VIA's Sales Director Alex Tebbs added: "We want to send massive congratulations to our sponsored driver and all the team that made the win possible. We have sponsored Rick for the last two years, and seeing Rick's trophies and hearing his war stories was great."
Parfitt and his co-driver Seb Morris also added the GT3 Pro/Am title to their overall championship.