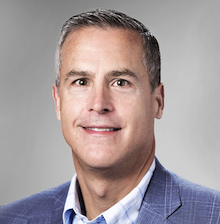 Veeam's upward trajectory continues to enter new orbits of growth, boosted by Q3 2017 results that represent the 37th three month period of record bookings.
The company reported 72% bookings growth for its multi-cloud solutions and 84% growth in new enterprise business - tantamount to a 34% year-over-year increase in total bookings for Q3 2017.
The EMEA region stood out with year-on-year bookings up by 33%.
In response to strong demand for always-on digital experiences Veeam has expanded its capabilities to physical environments as well as multi-cloud support for Microsoft Azure and Azure Stack, Amazon Web Services, IBM Cloud, and support for SaaS applications including NEW Veeam Backup for Microsoft Office 365 1.5.
The company has also reached a new milestone in surpassing 16,700 service provider partners.
"Customers are adopting our multi-cloud solutions at record pace," stated Peter McKay (pictured), co-CEO and President of Veeam.
"It took six years for Veeam to clear $50m in bookings for our cloud business. We now see $54m in three quarters. With our partners and alliances we aim to meet our goal of $1.5bn in bookings revenue by 2020."
Veeam's momentum is spurred by a growing number of organisations embracing a multi-cloud strategy; but as workloads expand and user expectations for availability increase many organisations are left vulnerable, according to McKay.
"As the demand for uninterrupted digital experiences continues our vision is to protect the most critical workloads across any cloud," he added.
Veeam currently has circa 267,500 customers and adds an average of 4,000 new clients each month.
More than 15.3 million VMs are now protected with Veeam Availability solutions.