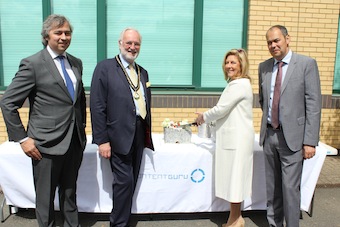 Bracknell headquartered Redwood Technologies Group marked its 25th year in business with a silver anniversary plaque unveiled by Borough of Bracknell Forest Mayor Tina McKenzie-Boyle.
Brothers Sean and Martin Taylor founded Redwood Technologies on 14th May 1993 as a maker of components for vendors such as Panasonic and Ericsson, and operated the mass calling platform used for TV shows Pop Idol and Who Wants to be a Millionaire?.
Redwood Technologies now provides comms solutions to hundreds of organisations in over 60 countries.
The brothers went on to establish cloud provider Content Guru in 2005, which later joined Redwood Technologies under the parent organisation Redwood Technologies Group.
CEO Sean Taylor commented: "It has been great not just to survive as an IT company for 25 years, but to have thrived. I will have handed over the baton by the time the next quarter century milestone has arrived. It will be fascinating to see what can be achieved in that timeframe."
Pictured (l-r): Martin Taylor, Bruce McKenzie-Boyle (the Mayor's Consort), Mayor Tina McKenzie-Boyle and Sean Taylor.