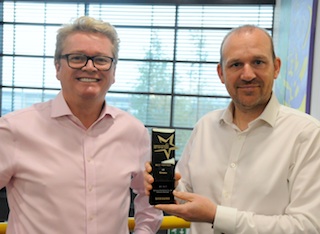 Nimans has become the exclusive distributor of Samsung Unified Communications in the UK and was handed a gong to reinforce its master supplier status.
The distributor was named Best Partner (UK) in the 2017 Samsung Enterprise Best Partner Awards which culminated in a global conference at the vendor's South Korean HQ.
Director of Channel Sales Richard Carter and Head of Category Sales Paul Burn collected the award in Seoul at Samsung's Global Sales & Marketing Conference.
"The award caps a year to remember for our expanded Samsung team as it reinforces our exclusive status as Samsung's country distributor for unified communications in the UK," said Burn.
"We now have a direct working relationship with Samsung in Korea and our visit was a great way to forge closer working relationships.
"We were able to interact and share ideas not only with senior Samsung officials but also our counterparts from across the world. It was a great experience."