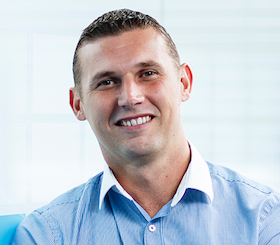 Giacom Chief Executive Mike Wardell (pictured) has led an MBO from founder Nick Marshall following an investment by Livingbridge. The deal sees LDC, which backed the business in 2016, exit and reinvest alongside Livingbridge for a minority stake. Yorkshire Bank has also worked with Giacom since 2016 and will continue to support the company. Graham Gilbert remains as Chairman.
Giacom has a Microsoft 2-Tier Cloud Solution Provider licence and delivers cloud services to the SME market through more than 4,000 channel partners.
The firm plans to build on its growth momentum and its expand its channel network, while cross-selling more products and services across the marketplace and through strategic M&A.
Wardell said: "Following a year of rapid growth which saw us double our revenues, we believe that now is the right time to secure new financial backing and accelerate our growth plans.
"Livingbridge has a track record of supporting other high growth businesses such as ours, and experience of investing in the tech sector."
Livingbridge deal-maker Matthew Caffrey added: "Giacom is well positioned to capitalise on a significant market opportunity underpinned by SMEs increasingly migrating their applications and infrastructure into the cloud.
"Giacom's marketplace platform is well placed to continue to disrupt the market and drive growth."