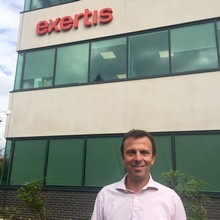 Exertis has appointed Rik Hubbard as commercial and services director for its mobile division, reporting to Simon Woodman, Exertis mobile director.
A chartered accountant with almost twenty years' experience in the telco industry, Hubbard joins from Samsung where he was head of commercial finance and financial services for five years
Hubbard will be working with the sales and purchasing teams to maximise performance of the division's market leading vendors across the consumer and business to business areas. In addition, his remit will include building on the opportunity to launch a range of device focused services from trade-in, repair and refurbishment to finance and service contracts, following the recent announcement of the acquisition of the MTR Group.
"Providing services that add value are fundamental to being successful in technology distribution. I am delighted to have joined Exertis, a company at the forefront of mobile distribution with an outstanding product and solutions portfolio. I look forward to building on this success and working with a vibrant, award-winning team," said Hubbard.