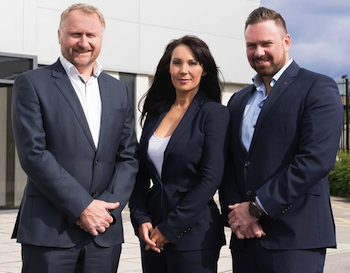 Leeds-based Firstnet and Manchester company Select Data Centres have merged to form a new business under the name of Firstnet Group. The deal combines Select's focus on data centre design and construction with Firstnet's expertise in connectivity, networks, managed IT, cloud platforms, system co-location and disaster recovery.
The new company is based at Firstnet's HQ in Leeds which includes a 20,000 sq ft data centre and workplace recovery facility designed and built by Select.
The site is now jointly owned by Select's CEO Stephen Leahy and Firstnet Directors David Cusworth and Angie Cusworth.
Leahy is now Firstnet Group's CEO. He brings 30 years experience in the critical power and data centre industry, including development projects on behalf of the NHS, the Civil Aviation Authority, Siemens, Hyundai and BT.
Select's Manchester base will now be deployed as a Firstnet Group satellite office to supplement the main operation in Leeds.
Leahy said: "The deal represents a substantial investment in the city's IT sector and we will continue to invest in our Leeds estate, including our purpose-built data centre."
David Cusworth added: "This merger represents a positive development for our customers and an opportunity for our employees. It also positions the company for its next phase of growth in the UK data centre and IT sector.
"We plan to double our sales staff by the end of 2017 and create 100 new jobs over the next 18 months."