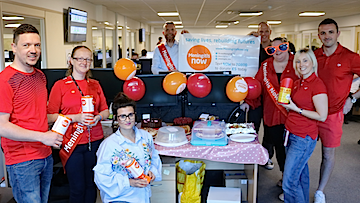 Businesses wanting to ramp up and formalise their charity and CSR activities should follow Entanet's lead, according to CEO Elsa Chen who says the formation of a new 13-strong inter-company CSR committee structures and catalyses the process of developing and coordinating fund raising initiatives.
Entanet's CSR manifesto is found on four pillars - charitable giving and fundraising, volunteering, environmental impact, diversity and inclusion.
"The CSR committee provides structure, direction and a stronger focus on making a positive difference in the community," stated Chen.
Following a company-wide vote Entanet has pledged its support for Meningitis Now and the Midlands Air Ambulance Charity.
CSR Committee Chair Steven Wood added: "We're far more focused on working with colleagues on a range of activities to support these causes alongside other CSR initiatives."
Last year the company raised over £7k for a number of charities including Birmingham Children's Hospital, Severn Hospice and SANDS.
Pictured: A baking competition and sale kicked off Entanet's support for Meningitis Now.