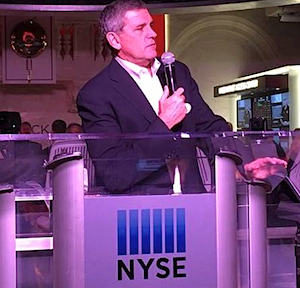 Avaya President and CEO Jim Chirico has rung in a new era in the company's history, marking the vendor's listing on the New York Stock Exchange (NYSE) yesterday by ringing the Opening Bell at the NYSE today.
In doing so he officially drew a line under Avaya's Chapter 11 filing from which it emerged in December 2018 having successfully completed a financial restructuring that shed billions of dollars in debt, freeing up $300m in cash flows. 
"Avaya sits today at the strategic nexus of connectivity for the enterprise with more than 130,000 customers in 220,000 locations worldwide, 90% plus of the Fortune 100, and more than 100 million users," said Chirico.
"We have unparalleled opportunities ahead of us. For example, only about 10% of our contact centre customers have migrated to the cloud."
Avaya began trading on the NYSE under the ticker symbol AVYA.